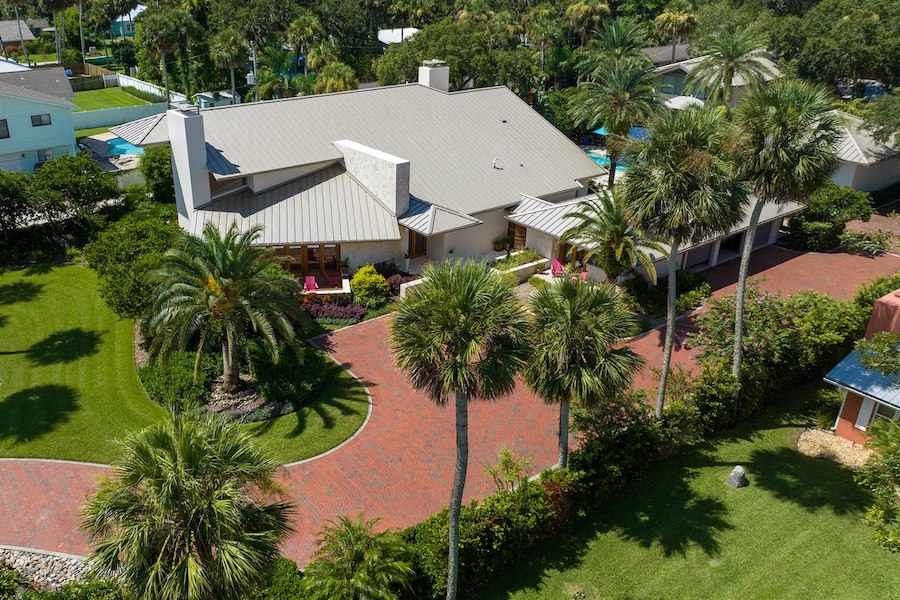 Key Facts:
Location: 1006 South Riverside Drive, Edgewater, Florida – a prime setting for luxury living.
Heritage & Design: A residence that blends the rich heritage of the England Family with cutting-edge architecture.
Laid Back Luxury: Experience "Laid Back Luxury" in your private haven at 1006 South Riverside Drive.
Where Past, Present, and Creativity Converge in Perfect Harmony
Welcome to the exquisite world of 1006 South Riverside Drive in Edgewater, Florida. This residence harmonizes the rich heritage of the England Family with visionary architecture and artistic brilliance. Immerse yourself in the essence of "Laid Back Luxury" 1006 South Riverside Drive in your own private haven.
1006 South Riverside Drive: A Legacy Brought to Life
Meet Richard and Terry Jane England, a couple whose history traces back to the heart of Edgewater, Florida. Their roots run deep in this vibrant community, with generational ties that lend a unique authenticity to their story.
A Masterpiece in the Making
Over 2.5 years of unwavering commitment, Richard and Terry Jane collaborated with regionally renowned architect Will Miller, who boasts a connection back to the iconic Frank Lloyd Wright. Working alongside interior designer Rob Turner of Orlando's Phil Kean Design, the two collaborated harmoniously to create the Englands' dream of an unrivaled family compound.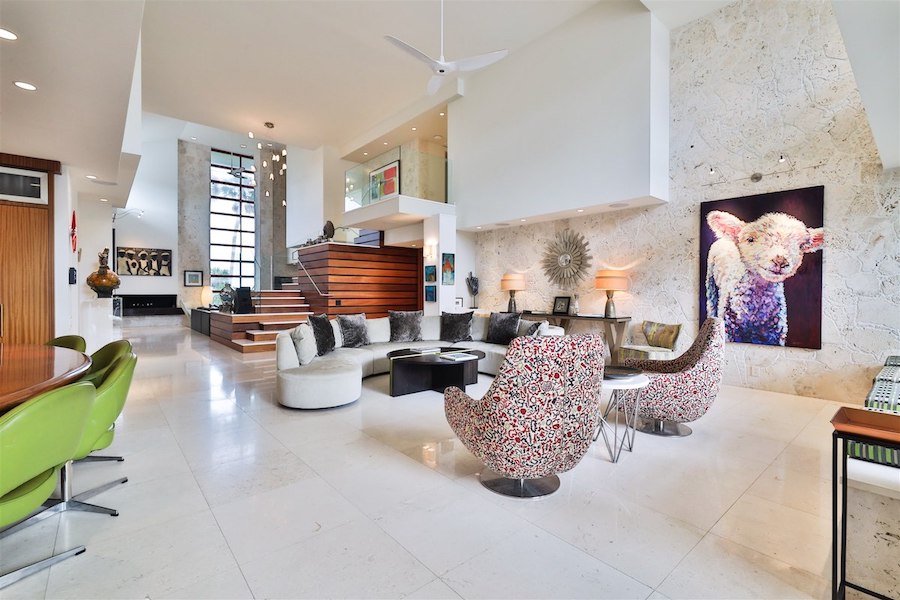 1006 South Riverside Drive: Indulge in Laid Back Luxury
Main Home: A sprawling 4,455 sq. ft. sanctuary, featuring 3 bedrooms, 3 full and 2 half baths, and a meticulously designed custom 500-bottle temperature-controlled wine cellar.
Artist Workshop:** A 286 sq. ft. haven for creativity to flourish.
Keystone Cottage: An 818 sq. ft. refuge boasting one bedroom, one bath, and a fully equipped kitchen.
Wood Working Shop: Over 1,200 sq. ft. of climate-controlled space, equipped with state-of-the-art machinery, it's own half bath and a 544 sq. ft. garage loading dock beneath soaring 16′ ceilings.
A Sanctuary of Possibilities: The property provides vertical living space, including a 3-car oversized garage and abundant room for expansion on its sprawling 1.2-acre canvas.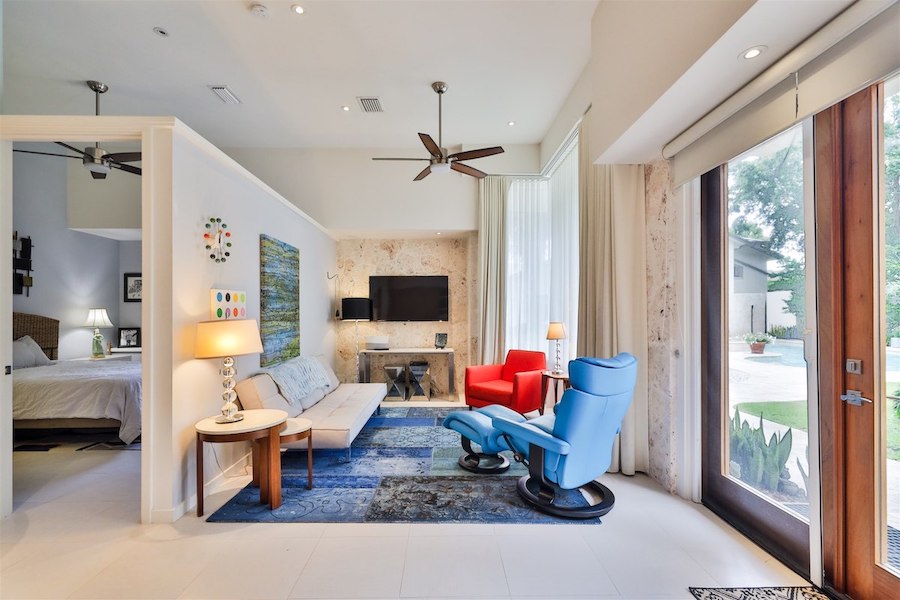 Craftsmanship Elevated to Art
As you wander through the lush, manicured gardens, you'll be struck by a design that blurs the lines between inside and out. This unity with nature is enhanced by a custom 22 foot tall window that faces the intracoastal. It boasts a red divided light frame that evokes a similar feature on Frank Lloyd Wright's "Falling Water" house outside of Pittsburgh.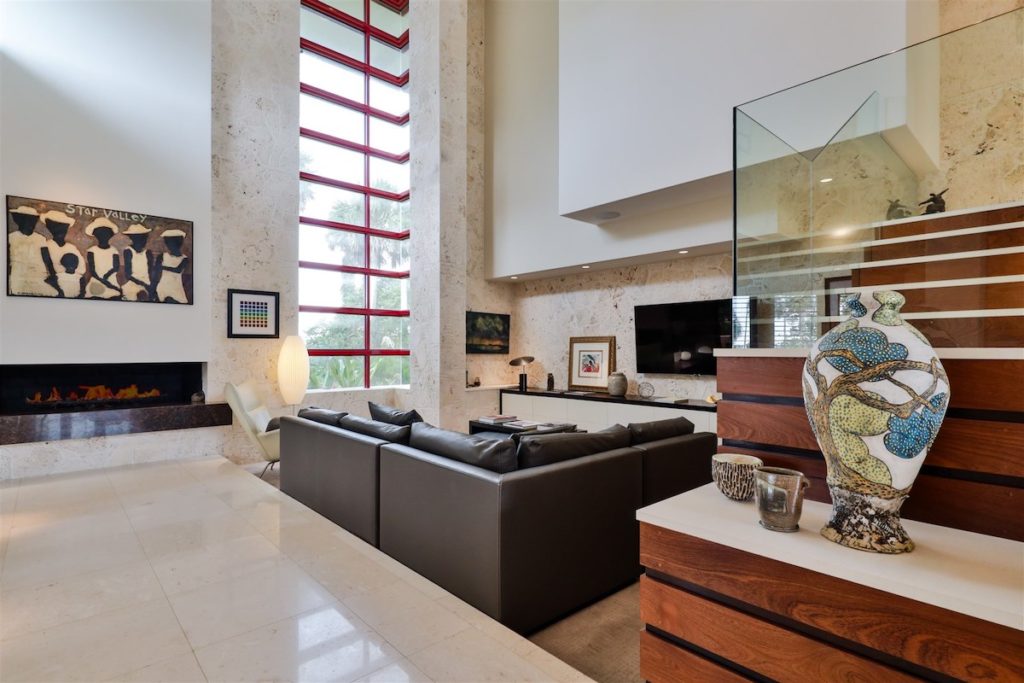 Enter the home and be captured by the grandeur and elegance. The custom sculptural mahogany and limestone staircase with its stainless steel/glass railing becomes an embodiment of functional artistry. The stacked mahogany structure artistically knits together the stone and wood in what is likely the most sculptural feature of the interior. The 500-bottle temperature-controlled wine cellar nestles beneath this masterpiece, a nod to the appreciation of fine living.
Elegance in Every Detail
Mahogany, the hallmark of sophistication, graces virtually every visible wood surface. The Florida Keystone, sourced from a Homestead quarry, not only adorns the walls but also preserves fossils within its 3″ thick stone, capturing the passage of time and nature's grace.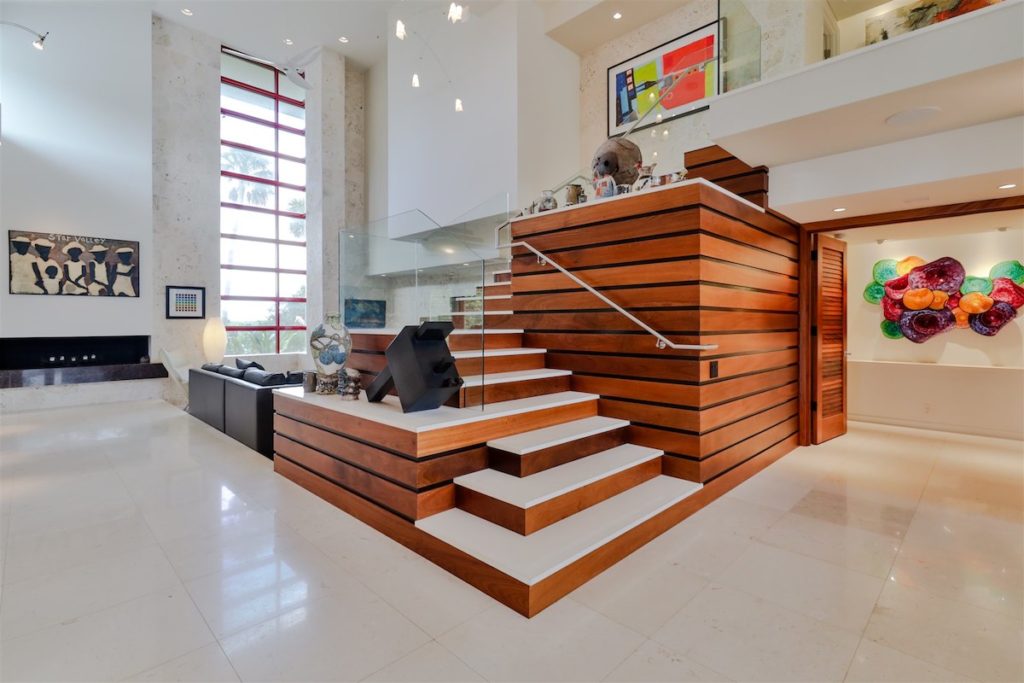 1006 South Riverside Drive: Legacy Lives Here
More than a house, 1006 South Riverside Dr. embodies a legacy that resonates with heritage, craftsmanship and artistic vision. Discover your place within this enchanting tale, and explore a residence that is more than just a home—it's a testament to the stories we weave and the life we create.